Ceramic Epoxy
Ceramic Epoxy coating is a unique abrasion resistant coating that protects by binding ceramic particles to a resin system, thus creating an encapsulating ceramic shell. Each ceramic particle is resin coated and becomes tightly packed in the cured film.
Ceramic Epoxy Coating Process Provides
Flexible film characteristics

High corrosion resistance

Class 1 fire and smoke rating

Acceptable for food contact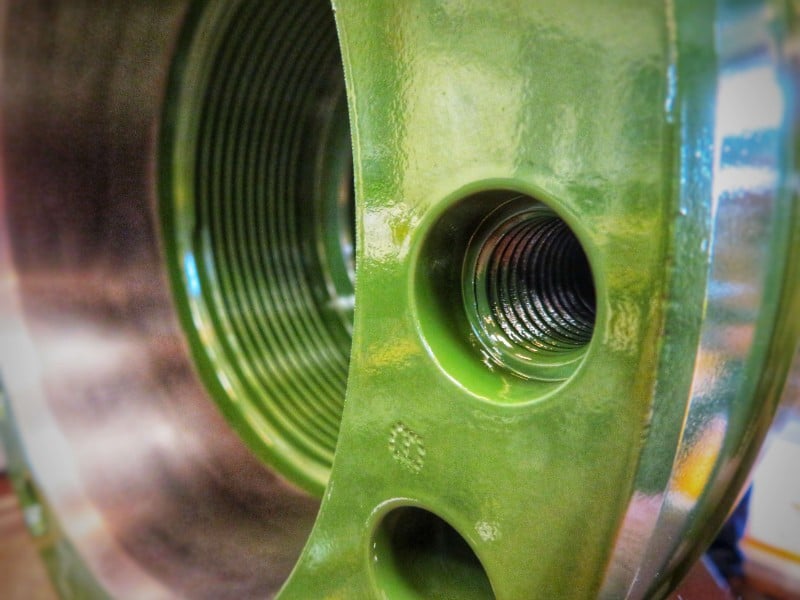 SERVICE INFO
Ceramic Epoxy Coatings Statistics
Adhesion (ASTM D4541, elcometer pull-off)
>3,680 PSI
Abrasion Resistance (ASTM D 4060, Tabor Test 1,000 cycles, CS 17 wheel, 1kg)
27 milligrams loss
Surface Roughness (Profilometer value)
20 Ra
Flexibility (ASTM D 522)
15% elongation
Impact Resistance – Direct (ASTM D 2794)
50 in-lbs
Thickness
.005″ – .010″
Use Temperature
300°F max
Static Coefficient of Friction (ASTM D 4518)
0.152 mean static friction value
Dielectric Strength (ASTM D 149)
>1,750 volts/mil (>68 volts/micron)
Salt Spray (ISO 7253)
6,000 hours
Cyclic Corrosion (ASTM D5894)
Pass
Fire Rating Over Steel (ASTM E84-91a)
Smoke Density – Class I
Flame Spread – Class I
Chemical Testing (ASTM G 20-modified to 30 days at 75°F/23.9°C)
HCI in H20: pH of 2.9
HF in H20: pH of 2.9
H2SO4 in H20: pH of 2.1
NaCI (10%) + H2SO4: pH of 2.9
NaCI (10%) in H20
No Change
No Change
No Change
No Change
No Change
Range Of Coatings
We provide worldwide quality coatings to various sectors including but not exclusive to industrial, oil & gas, oil-refining, petrochemical, marine, construction, mining, engineering, electronics and the military.
Electroless Nickel
electroless nickel dispersion coatings serve to increase or reduce friction, minimize wear and protect the surfaces.

Fluoro Polymers
Fluoropolymer coatings are blends of high performance resins and fluoropolymer lubricants.
InOrganic Zinc
when applied to blasted steel provide excellent corrosion protection, weathering protection.
Cermic Epoxy
a unique abrasion resistant coating that protects by binding ceramic particles to a resin system.
Phosphate coating
Phosphate coatings are a crystalline conversion coating for steel ferrous metal substrate. Moly Coating
commonly used in applications where load carrying capacity, operating pressure is the primary concern.
If you have any questions or if you just want to talk, feel free to contact us.